In bedrooms, I really love using lighting you can see through. It adds "lightness" to the room and also brings in a bit of elegance. (Especially if you use crystal!) I decided to go this direction with our master bedroom.. a little more on that below.
First, here are some great rooms with glass or crystal bedside lamps:
[ zoldan interiors ]

[ lonny ]

[ lonny ]

[ Brittany Stiles ]
[ all images found via decorpad.com unless otherwise noted.]
There are a lot of great options out there for glass and crystal lighting.
If money were no object, I'd gladly take any pair of these from
Circa Lighting
:
$588

$483

$1,050

$525
Here are some great affordable options for those of us on a budget!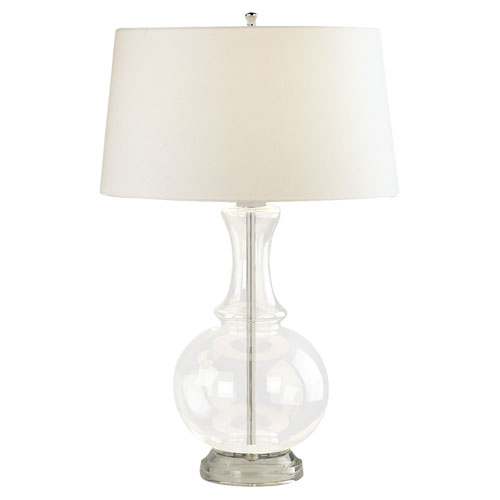 Robert Abbey - $160
[ to the trade, can be purchased through me ]

Crate & Barrel - $90
And last but not least, the extremely affordable option I chose for our master bedroom:
JCP - $64
In case you are wondering about the status of the master bedroom design, it's coming along slowly but surely. I got the glass tops back from my glass cutter (as you can see). I also got two accent pillows for the room. I still have a lot to accomplish, though:

- Paint wood on the settee and have reupholstered
- Find & paint dresser (hopefully this will be taken care of this coming weekend! I want an antique/vintage piece so timing is tbd on this one)
- Find mirror for above dresser
- Art for above the bed (I'm comissioning this piece!)
- Install hardware on the closet doors
- Accessories

I cannot wait for the room to be finished! As I bring in each piece it makes me excited for the end result. This will be the first "finished" room in our first house, so it's pretty sentimental for me.