Yay! Another idea board! Jenny asked my help with designing a guest room she could scrapbook in, but also wanted it to function as a guest room. She had some great items to start with - the desk her husband bought her for Christmas, and her GORGEOUS floors (you can see the color of them in the bottom left of the idea board. For guest accommodations, she requested a cream colored sleeper sofa.
So.... here is what I came up with!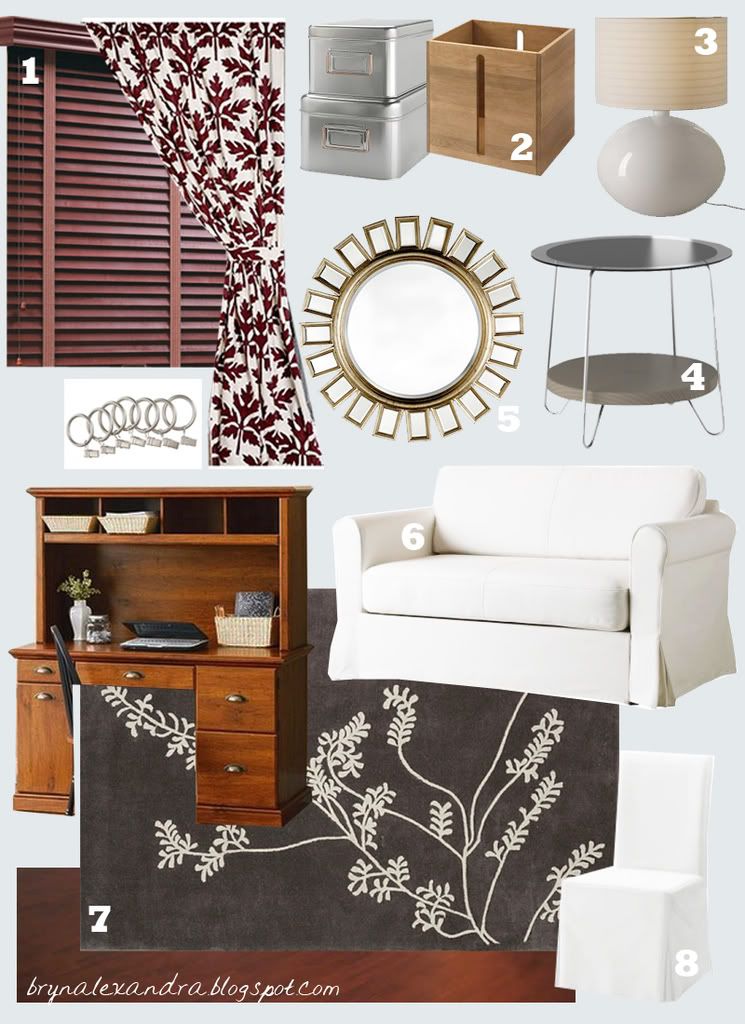 The Details:
- Jenny's beautiful floors were inspiration for her windows: I love the red leafy print of
these curtains
. I'd put some
venetian blinds
in the same color as the floors underneath them. To balance off the red tones in these pieces, I'd paint the walls River Rapids from Ralph Lauren - a very very light blue.
- I found a
nice inexpensive sleeper sofa from Ikea
. They never cease to amaze me! I matched the office chair to the sofa; it's actually a
covered dining room chair from Ikea
. Then, also from Ikea,
a white lamp
pulls from the white of the chair and sofa.
- Jenny wanted needed some storage for her scrapbooking items, so I pulled together
the metal and the wood of these small storage compartments
to match the desk her husband bought her for Christmas.
- I really like this
sun-inspired mirror
; it fits in well with the nature inspired curtains and rug. Speaking of
the rug
, I just adore it. I'd buy it for myself.... I think it's a timeless piece. It's the perfect natural gray color for the room. I found
this side table from Ikea
to tie in the same colors as the rug. I also like how it's a little more modern, so it keeps the room eclectic (I guess you could say all my "designs" always have mixes of modern and traditional).
Thanks, Jenny for letting me help you!
And to the rest of you out in blogland - if you ever need help with a room, my idea board services are just 10 bucks :) Email me anytime, I really love doing them.