Yesterday we learned that our dining room table base shattered in a million pieces during the move. The movers were the ones to pack it, so we're working with the company to see if we can get a reimbursement.
But now it has me thinking about a new dining room table. The table was not something I would have picked out myself but it was gifted to us. But I grew to sort of like it.. I liked the airy-ness of the glass top. Here is a picture:
Unfortunately, it was the perfect size and shape for our apartment "dining room".
Now here I am wondering what are we going to replace it with? I've searched for other bases but they are either extremely ornate or extremely expensive, or both. Who knows how much we'll get back for the table if anything.
Anyway, this unfortunate situation has got me looking at inspiring dining rooms trying to figure out what we could do to "hold us over". We don't want to invest too much in a piece until we buy a home and know what kind of space we are working with.
I think I may just go with old faithful:
Ikea DOCKSTA - $149
I love that it can be used with more traditional furniture and still feel perfect for the space: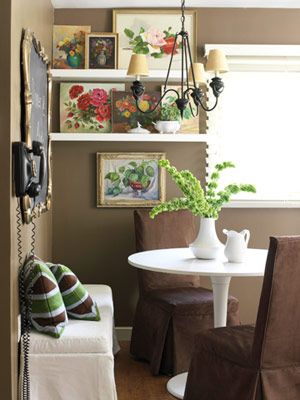 I love it in
Lauren
's space:
Another option is a round wooden pedestal table, found pretty much anywhere. I could get one off of Craigslist, especially here in the south :) Here is one up right now:
I could paint it black which would be an easy fix: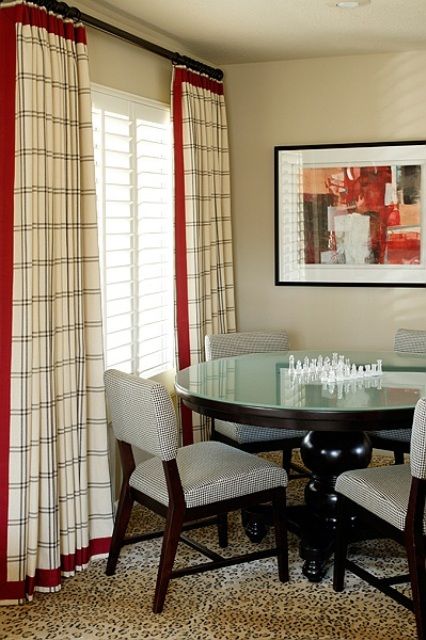 Or I could be brave and try and lime it, like this gorgeous table in Country Home:
Honestly, I have no idea what I'll do! I'm too concentrated on unpacking... if you could only see our apartment right now. The funny thing is, I think at least 50% of the boxes are labeled "decor".
Also, thanks SO much for everyone's feedback yesterday! I decided to........ GO NEUTRAL! Especially after putting all the furniture in our bedroom yesterday, it really shrunk down in size. I need something light and airy to make it look a bit bigger. Thanks for your feedback, you had very very good points and advice for both sides.