I just received an anonymous comment on my "Goals" post below asking this:
also ... why did you select "urban cottage interiors?" cottage isn't a word i'd use to describe your style.


This is a great question that I'd like to address. Of course, I want my business name to be something I can stick with for years (decades?), and I want to make sure it's the right for me. I plan on becoming an LLC in the near future (there are a couple little details I'm working out), so before I go through the legal stuff, I want to make sure the name is
the name
!
The reason I chose urban cottage interiors is because I've always considered my style to have a juxtaposition of urban [contemporary] and cottage [casual] elements. I like mixing new, modern pieces with old refurbished antiques. When I think about my company and the "target" customer, I imagine a home in a somewhat large city, like Los Angeles or Atlanta. The owners are both working parents with children or maybe a young newlywed couple just starting their professional life. They live busy lives and want their home to be their sactuary. They like nice modern things, but also want a casual, comfortable place to come home to at night with linens and jute and simplicity. I've always considered "urban cottage" to be a great way to describe that type of style.
But now ms.anonymous has me doubting it?
I've found some pictures that I feel is my "style":
urban: graphic modern chair
cottage: natural fiber rug, antique pedestal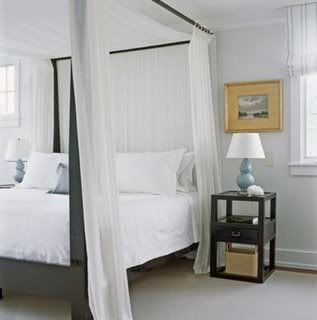 urban: black walls, glossy black dresser, that orange pendant!
cottage: Ikat fabric, traditional chaise lounge

Please, do let me know what you think!




EDIT: Oh my gosh!!! Thank you so much for the amazing feedback, and quick too! I think each and every one of you had great points. I think the fact alone that I'd need to "explain" the name is a red flag. Jenny from Green Little Notebook put it best - "cottage" means something different to everyone. That is not a good thing, I definitely do not want to pigeon hole myself. I am now leaning toward my own name: bryn alexandra interiors. Thanks again!