I've been talking with an artist I teamed up with to give
Matt & Madeline
a special gift (further explanation
here
)... and I got to thinking about the artists/painters in my family and what art means to me. I come from two generations of talented artists, and art has a special meaning to me.
In college I picked up a little hobby of painting houses on canvases. Everyone knows I love homes, and what better way to remember a home than to immortalize it on canvas. Here are some I did for my husband's family (these are all the homes they've lived in):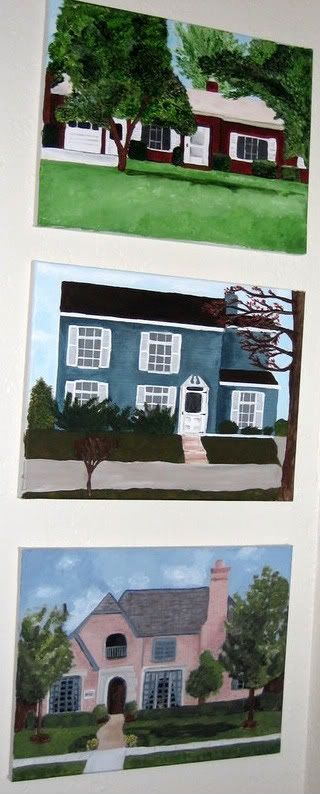 I was a 'starving college student' so to speak, so these were created with cheap acrylic craft paints, not oil based paint (which is unfortunately why the quality isn't that great....) I also never was able to finish the series (they've lived in MANY homes and I had finals), but once I do I'd love to become serious about the hobby.
Here are some homes I'd love to paint in the future, although I'm not sure what steps to go through to make sure there is no copyright infringements....